Gothic Corset Shops
The Gothic eZine - Fashion

CORSETS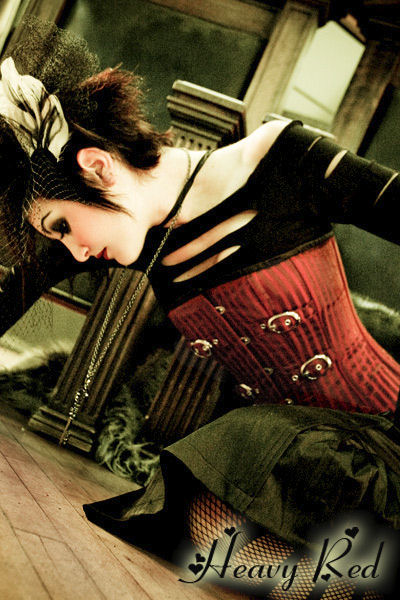 World Famous corsetry by leading Goth designer Ondine. All steel boned, waist training, unique & deathly beautiful designs.
Some really nice designs I haven't seen elsewhere. Some gorgeous fabric and style selections.
Unique leather corsets, Apocalyptic and fetish designs.
Bargain corsets. Some of them look pretty good, but these are not custom fit. You can get a corset for under $150 here.
A few dozen styles of corsets. "Off the rack" not custom. Prices okay.
Corsets for those that want the look, not for serious waist training. Prices very affordable. These folks have had some decent reviews on the agf newsgroup.
Corsetry, cloaks, dresses, skirts, tops, custom costumes, accessories and clothing for men
UK site offering traditional backlacing corsets
Nice batwing corset and skull print corset. Priced reasonable.
Corsets in leather and brocade. Some great brocades like spiderweb and scull and crossbones. Moderatly priced.
Historically accurate corests in a variety of fabrics. Also offers Victorian Chemise's and skirts, Hoopskirts, Bum Rolls & Bustles.
Corsets. Historic fashion for men and women
Custom corsets specifically for tight lacing.
Just fill in your measurements and you will receive instructions for creating a perfectly fitting corset pattern.
Wide variety of corset styles and fabrics to choose from. Custom made to your measurements
Corsets, some with some unusual twists in terms of embellishment. Prices average to high (for custom corsets)
Custom corsetry in a variety of styles and fabrics.
Offers gothic corsets and clothing, exotic corsets, fetish corsets, as well as renaissance and medievil clothing. They offer some really unique corset looks. Prices pretty fair.
Very reasonably priced. Historic reproduction corsets for under or outerwear
Custom corsets & corset making supplies
Custom made corsets in a variety of styles and fabrics. Very reasonably priced, even with shipping from Australia. Highly Recommended.
Several corsets available from traditional to unusual. Prices reasonable, but come
premade in sizes s-xl. Not a custom fit.
Traditional and modern corsets & waist cinchers. Also skirts, dresses and tops to wear with your corset. Extremely good value. Australian site, with prices in AUS dollars, so USD go a long way!
Corsets, Clubwear, Footwear, Accessories.
Custom Corsets specializing in velvets, brocades, silks and lace. Victorian and period costuming. Tight-lacing and fashion corsetry. A variety of fabrics available including embossed velvets.
Custom and readymade corsets. Located in Amsterdam.
Original, custom-made corsets. Also historical and fantasy costumes for men and women.
Offers period corsets in 5 styles in 4 sizes. Also makes custom costumes for film and stage
Corsets and clothing from Skin Two, Syren, Stormy Leather and others. Over 300 silk, satin and leather corsets in stock.
Custom and ready-made corsets. Custom ones over $325-$350, ready made are just over $200+
C&S corsetry. Corset advocate group. Corset resources.
Unique, affordable custom corsets. Available in a variety of fabrics including leather and PVC.
Corsets available in a few different styles and lots of fabrics.
Custom corsetry. Several styles and fabrics to choose from. Prices moderate.
Custom made corsets by one of the oldest German corsetmakers.
Noctimania is a UK brand specialising in cutting edge corset design with a broad range of luxurious gothic corsets, all handmade to order.
Custom corsets, costumes, leather and studwork.
Contemporary corsetry formen and women. You can pick from a variety of colors, fabrics and customization options. All are customer built to your measurements.
Fetish and trendy leather corsets. Nice work, and extremely reasonably priced considering this is leather here folks.
Achieve that period silhouette with a period replica corset.
Located in Toronto. Some pictures, but no prices on site for their corsets.
Original design corsets. No prices listed on site yet.
Victorian, underbust, baroque and other styles. I think their prices are fabulous for a custom corset.
Traditional and specialty corsets.
Custom leather corsets and accessories
Custom leather corsets. Nice looking, prices reasonable for leatherwork.
Many styles of corsets. Also clothing and hats available
If you love web pages that flash,blink and animate, this is the site for you ! Once you get past the bothersome home page, there are some nice corsets to be had here. Custom work.
Corsetry and other foundation garments done to your specifications.They can also produce historically accurate or influenced costumes.
Custom corsets and accessories. Small selection shown on website.
Corsets, PVC, fetish, wigs, cosmetics. They even have stuff for baby goths stuff like little scull rompers and barbed-rose dresses.
A few corsets available.
Their own lovely corset designs. Worth a look.
Handmade Corsetry, rubber and pvc attire.
Made to measure corsetry and waist cinchers. Currently offering 7 unique designs in satin, brocade, coutil, PVC, and leather. Beautiful designs. UK site.
Corsets, Catsuits and Fetishwear. Large variety of corsets in many styles and fabrics. Worth a look.
Offers basic corsets in standard sizes and Specialty corsets custom made. Also offers Crinolines and pettipants.
Instructions on making corset patterns & constructing corsets. Info on wearing and caring for corsets, and the hazards of tight lacing.
Custom corsets created from their exclusive designs. Daily styles as well as Fetish styles.
Some of these fairly inexpensive. Off-the-rack corsets tho, not custom fitted.
Custom corsets for every body. All custom corsets are steel boned. Priced reasonably for a quality corset.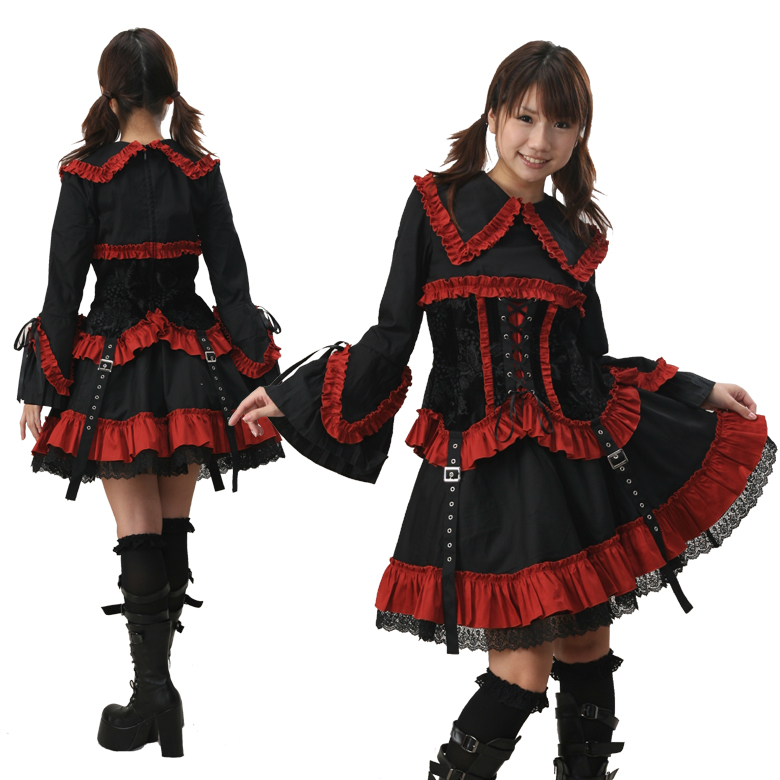 PETTICOATS & Bloomers
Hand-made bloomers. Inexpensive.
Various links to places you can buy bloomers.
Some different petticoats & bloomers
Petticoats, Makeup, False Eyelashes.
A small selection, mostly pastel colors.
Petticoats of course
Small selection, but a few color choices
Many styles, lengths, fabrics and colors. Good one-stop shop for petticoats. Prices moderate.
Some full, long slips in black to add a bit off extra poof to those long black skirts. Prices moderate.