Gothic Clothing Shops
The Gothic eZine - Fashion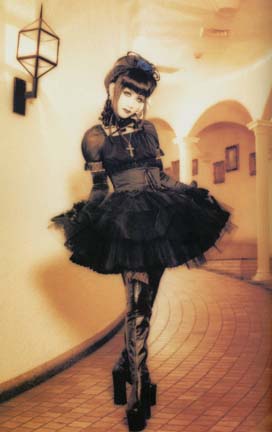 CLOTHING
Beautiful clothing. Original ready-to-wear and couture clothing. Gothic and alternative mens and womens. Expensive, but lovely.
Clothing and jewelry.
Specializes in creation of historically accurate clothing. Satisfy your Victorian and Edwardian needs here.
PVC clothing. Mostly Lip Service stuff, but some other designs as well.
Clothing for guys and gals. Prices are listed in Euro.
Skirts,tops,dresses and coats. Gothic and Cyber. UK shop with reasonable prices. Their own clothing line; so not the same old stuff.
Historic, bridal and evening gowns in many styles and fabrics. Corseted gown styles. UK site. Worth a look.
World Famous corsetry by leading Goth designer Ondine. All steel boned, waist training, unique & deathly beautiful designs.
Cloaks and Capes. Gothic and fantasy gowns.
German site with some really nice clothes, shoes and other goodies.
UK site. Unique designed clothing made to measure. Very moderatly priced for custom fitted clothing. Some really nice original designs.
Lovely fashions. Site in japanese so nice eye-candy unless you can read it or translate it.
Gorgeous original designs. Site is in Japanese.
UK shop. Clothing and footwear. Small selection.
Corsetry, cloaks, dresses, skirts, tops, custom costumes, accessories
and clothing for men
Gothic Lolita clothing. Just darling stuff. Site is in Japanese for the most part, but can still look at the gorgeous clothes even if you can't figure out to order them.
Specializing in fine vintage clothing and accessories from the 1920's thru 1970's.
Latex clothing for men and women.
Clothing link site.
Alternative fashion for kids.
Renaissance and Gothic attire
Clothing by Sinister, Raven, Aderlass and others
Custom clothing for men and women. Affordable corsets.
UK shop with lots of clothes for women and men. Dresses,pvc, tribal tees, skirts & shirts, trousers. Some prices high.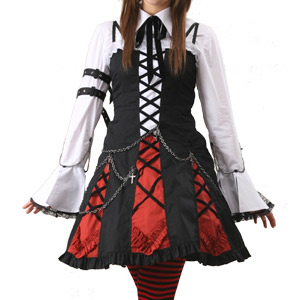 Dresses,corsets, tops. Custom victorian jacket for $100.
Bustles, side hoops, bloomers, skirts.
Jeannie Nitros' site. See and purchase her fashions here. Gorgeous stuff, but be prepared to pay. Treat yourself to at least one of these fabulous outfits.
Elegantly evil fashions. Order The Whole Costumers Catalog here.
Custom made clothing in velvet and vinyl. Corsets and skirts
Cute and adorable Cthulhu shirts,mugs, and totebags. I just love Cthulhu :)
Mostly pvc stuff. Tops, skirs, corsets,dresses. Also some stuff for the fellas.
Dresses, cloaks, kimonos,corsets. Very small selection, but appears to be quality stuff.
Dresses,skirts, tops, corsets,gloves etc.
(updated link) Italian site with lots of wonderful clothing at fabulous prices.
Custom Victorian fashions as well as hats and headpieces. Very nice fashions affordably priced. Prices in Canadian Dollars.
Historic inspired fashions. Custom made.
Tops, skirts,dresses and accessories. They have a lovely victorian bustle skirt available,very reasonably priced.
Specializing in all things Dark and Futuristic. Clothing for men and women. Stuff here I haven't seen elsewhere, and pretty reasonably priced.
Expensive tops, dresses,coats,capes,skirts. Only one or two items here that I personally might want, but not at these prices.
Clothing, leather, corsetry, footwear, jewelry and accessories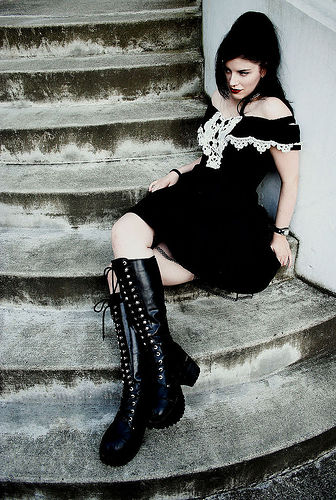 UK company. Cloaks, jackets, dresses, skirts, trousers and tops.
Wonderful, unusual cyber-fashions. They have a terrific shop in Camden market in London. Visit them in person if you have the opportunity!
Clothing,petticoats,bloomers and accessory items. Check out the Strychnine Dress for $39.95!
High Tec Fashion. Metal Cyber-accessories. Interesting and not too badly priced concidering the material and workmanship.
UK company. Shirts, coats & jackets, Bodices, and Dresses.
Goth and punk clothing and accessories. Leather and fetish attire. Footwear and jewelry also.
Latex fetish wear. All items custom made to fit you. Prices in Canadian dollars.
Custom goth clothing. Sketches on site give you an idea of the types of clothing they can make. No prices listed, all custom so will need to inquire.
Cyber metal fashions for men and women. You have to see this stuff, really unusual.
Clothes for guys and gals,jewelry, accessories. Some hot topic stuff, some is their own design.
A bit of this and that. Shoes, clothes, wips, hosiery, makeup, vinyl and accessories. They carry things like Muro spiderweb boots and gasmasks. Have a browse.
Fashions in PVC, lycra and velvets. Nice designs. Canadian site.
Prices in Canadian Dollars.
I'm listing them because I love their embroidered tshirts from Nepal. Also carries sarongs, brocade fabrics, and some cool jewelry
Cyber fashions. UK site. Unique but pricey.
Clothing for gals. Nice designs, prices very reasonable.
Fashions of the past. Specializing in Edwardian and Regency Reproductions
Romantic, medieval, gothic, historic, fetish and fantasy clothing. Original designs.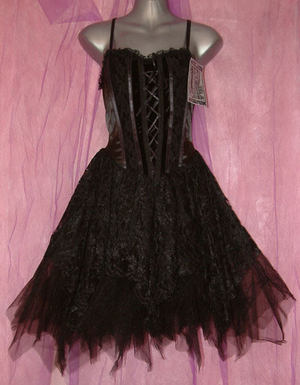 Custom fitted Cheogosams.
Gothic dresses inspired by spiders, latin mystery, medieval fancies and reptillian flavours.
Emily tees and accessories.
Very nice gothic clothing. Moderate prices.
Handmade Gothic Lolita clothing.
Corsetry for women and men. Ready to wear and custom orders. Gallery shows some really unique fabrics and designs.
Original designs. Limited selection, and expensive.
Mostly pvc clothing for women. Some stuff for men. Also corsets.
Small selection for men & women. Some historically based fashions.
Gothic clothing for men and women. Also carries a wide variety of sleeves if you need to dress up an outfit. Great website design-you should definatly visit, even just to look.
UK site specializing in Georgian and Victorian gothic with lots of velvet, brocade and lace.
Original and handmade medieval, gothic, magickal, clubwear, wedding, formal, and fun designs made to order according to individual sizes
Alternative fashions for men and women. Goth, swing, punk, fetish; including shoes, clothing, makeup, wigs and accessories.
Dark, deviant clubwear and streetwear with a sci-fi futuristic edge. Some of the stuff looks like Dane, altho the site doesn't say that it is. Clothing for guys too.
Custom made historic and goth garb & Corsets. Imagine yourself in
a Victorian skirt made of PVC! Very reasonably priced, even with
shipping from Australia. Highly Recommended.
Goth and club wear for men and women. Corsets, shoes, cloaks, jewelry,
makeup & hair, hats and others.
Some cute tshirts for gals.
Plus size apparel
Dresses, tops and skirts, cloaks & capes,jackets, gravestone rubbing t-shirts, & Hosiery
UK site with clothing (mostly pvc),makeup, hair stuff and accessories.
German site with gothic garb of men and women. They also have some home decor items like gargoyle toilet seats :)
Has a few tshirts,1 corset, and a few jewelry items.
Site devoted to clothing patterns that would make wonderful gothic garments.
Made to measure garments and corsetry. Also handmade jewelry.
UK Site. Clothing and medieval jewelry. PVC, fishnet, velvet, lace items plus makeup and hair colour. Has clothing for the guys!
Custom Celtic & Medieval Bridalwear. Lots of examples of their work, no prices on site as all work is custom on a comission basis.
Gowns, neckwear and tops for guys and gals. Eternal Love and Lip Service stuff.
Lip service and Leg Avenue stuff.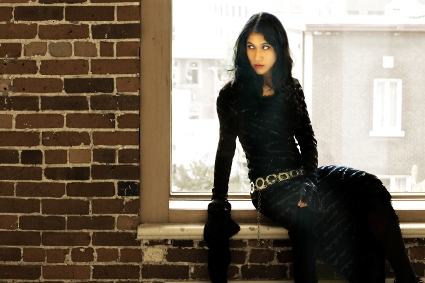 Gothic and cyber clothing for her and him. Also shoes, boots, accoutrements. Good selection.
Australian based original design clothing. US dollars go far in Australia, so don't let the prices scare you.
Tshirts & tank tops. Specializing in Death imagery: gravestones,skull and skeleton designs.
Products reflecting greavestone carving in New England. Tops, Cloaks, Scarves and Pouches.
Original design clothing. I just love their Betrothed gown (wish I could afford it!)
Original designs. Small selection.
Darkly romantic apparel. Prices seem a bit high.
Fashions for men and women. Dresses, tops, capes,shirts,hats, belts & bags.
Alternative and gothic clothing for boys and girls.
Unique cyber clothing. Wow. Some of these are really neat.
The most adoreable Cthulhu shirts available here.
Custom made skirts
Fetish clothing in Latex and Leather, specialising in taylored, themed styles.
One of a kind clothing and accessories in velvets, lace and PVC. Very nice stuff. Expensive.
Corsets, Clubwear, Footwear, Accessories.
Unusual fetishwear in PVC.
Basically a goth thrift ship. Inexpensive clothing for men and women.
Clothing, Jewelry and furniture. Pinstripe jacket and skirt very nice for the corp goth. Plenty of clubwear and everyday wear.
Gothic Lolita custom fashions.
Clothing for men and women. Jewelry, footwear, accessories, cosmetics and wigs.
Gothic designs. Small selection of clothing for men and women. Prices very reasonable.
Formerly known as Atrocities. Clothing designed for those romantic souls who dream of an existence in another place and time.
UK site offering alternative and gothic garb for men and women. Prices decent. They have their original line, plus others by Lip Service, Dragonfly, and Mercy. I love the Pinstripe Fishtail skirt!
Custom clothing that your mother wouldn't approve of.
Aussie company that makes latex fetishwear. Prices listed are in Australian dollars, so with the US exchange rate, you can get a real bargain.
French gothic clothing. Does have some bits in english; horrible to navigate site. All made to measure clothing
Gorgeous custom clothing. Bustle skirts, gothic wedding, corsets.
Attire for the dark twisted deviants. Fetish-punk, tshirts.
Historically based designs for men and women
Gothic Lolita and Japanese style school uniforms.
"Pioneers of clothing for fashion freaks" Nothing new here. This is the website for Lip Service brand clothing
Original gothic fashion utilizing vibrant shades of red, blue and purple
Original gowns,skirts, and tops. Also fetish wear. Prices reasonable.
Velvet cloaks
Dresses,skirts,tops, corsets. Carries some cute shrugs, nicely priced.
Great babydoll tees and undies. Flash site, you should visit just to look.
Wonderful gothic lolita fashion. The site is in Japanese , so you can at least enjoy the pictures of these great clothes
Babydoll tees, Dresses, gloves, hosiery, vinyl, shoes and boots.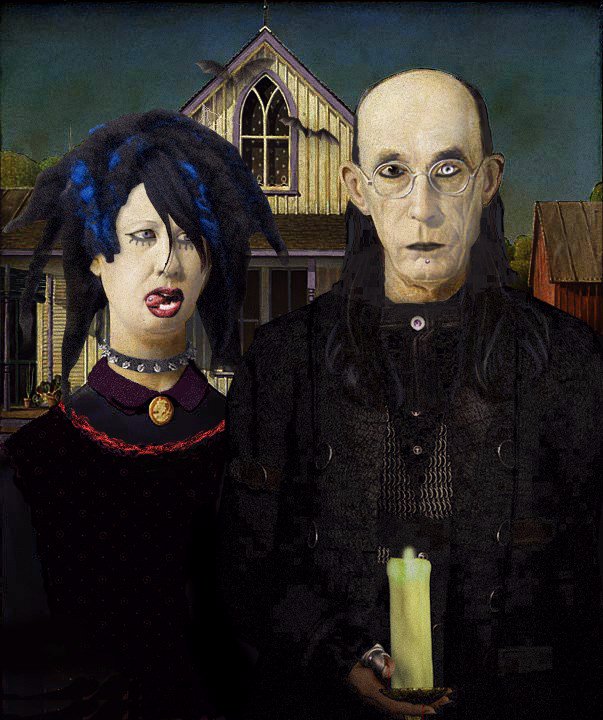 EGL and EGA clothing line.
Lip service clothing. Prices decent.
Alternative clothing for men and women
Clothing for Men and women. Also bags, jewelry, and hair.
Specializes in unique men's wear, has some women's wear. Gorgeous "Lestat" full lengh coat. These folks are in Australia, so the US dollar goes a long way.
Clothing that combines styling features from the 11th century. Nice things, but expensive.
Clothing for men and women. Original designs. Mostly pvc.
Clothing and corsets. Standard and custom sizes.
Latex fashions for women. Offers free shipping on all items.
German site. Clothing, veils, Accessories. Prices very reasonable. Love their Fairy top, and the bat Backpack.
Custom made clothing and corsets and anything out of your imagination.
Leather intimate and outerwear for women and men"
Gothic, Fetish and Cyberwear. Most of the site is in german, so crank up Babelfish to translate.
UK based designs. Alternative, gothic,tribal,cyber and PVC clothing.
Custom made period and fetish clothing.
Black tshirts with various mystical designs.
Gothic romantic plus-sized clothing. Expensive.
Small selection of clothing for men and women. Some nice designs. UK site.
Expensive cyber fashions.
Rockabilly, goth & punk clothing and clubwear. Shoes and boots, vintage clothing too.
Extensive list of band tshirts, original shirts, New Rocks.
Lovely clothing for women
Gothic Clothing, Accessories, Home Decor, Spooky Dolls and Rock Merchandise. Petite to Plus Size. Free Shipping and discount for new customers.
Made to measure clothing in all sizes. The Vamp dress in their bridal section is lovely.
Beautiful victorian clothing for women. Very reasonably priced.
Gothic industrial fashion for men and women. Not a lot of items, but prices are decent and clothing looks nice.
UK Site. Goth and Clubwear. Hair Dyes, cosmetics, UV Body gels.
Cute tops and bottoms for men and women. Priced right.
Vintage clothing and accessories from 1770-1920. The real thing, not reproductions.
Clothing for women and men. Jackets, dresses, skirts, shirts, pants, shoes and boots. Very nice stuff, expensive.
Shirts, skirts, coats and gowns. Moderate prices.
Gothic lolita fashions. Also has offerings on ebay.
Elegant Clothing for any Century of your dreams for men & women. Lovely designs.
Cyber-goth designs for men and women.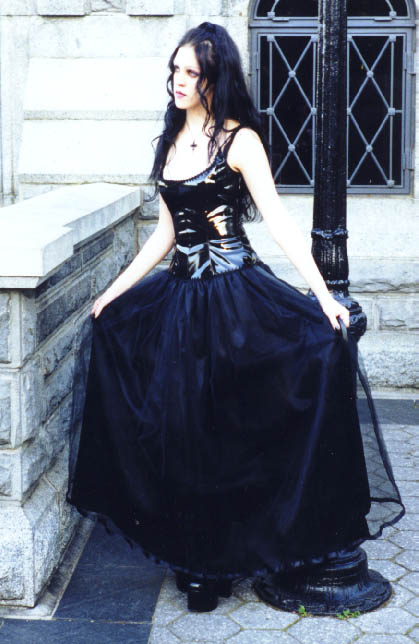 Medieval, fantasy and gothic gowns. Also a few corsets available.
Used/Nearly new gothic clothing and accessories for men and women.
Affordable gothic attire for all sizes. Nice full length Mandarin-style coat for $60-$85 looks similar to the one worn by Neo in Matrix Reloaded.
Hindu deity tshirts.
One-of-a-kind garments, corsets, cloaks and gowns. Historic, fantasy, gothic, and movie creations.
Cute tanks and tees printed with Alchemical, woodcuts, and various text.
Goth clothing. Can order a cataloge from their site. Some of the items in their catalog are shown on the site. I visited them in Toronto, very nice and helpful. Clothing nice quality. Expensive.
Do it yourself guide to Gothic Fashion
Latex and PVC fashion
Alternative clothing available with several prints.
PVC clothing, tights, shoes, jewelry and other goodies.
Custom clothing big or small. Examples on site, no prices listed.
Cutting edge and alternative style. Yungfuktoi, no:wear, & Transmuters.
Clothes, shoes, jewelry and accessories. Some things reasonably priced.
Clothes for guys and gals. Some cyber-ish stuff & lip service
Expensive PVC garments.
Sells tattered tulle skirts.
Clothing by Dane, cosmetics, Craig Morrison bags and fuzzy clothing.
Many styles of cloaks and capes available in velveteen and wool. Expensive.
Corsets, PVC, fetish, wigs, cosmetics. They even have stuff for baby goths stuff like little scull rompers and barbed-rose dresses.
A few outfits in velvet and lace offered.
Vintage clothing & accessories from the 20's-40's. Expensive.
For sewging goths : Patterns from the 1840's to the 1890's
Mens shirts, cloaks, 1 dress offered. Also accessories like fans,gloves and parasols.
Small selection of PVC clothing
Vampire Wear tshirts. One of them is a yellow smiley face w/fangs that says: Have a nice day. Hope it sucks.
Buy & sell new and vintage Gothic clothing, music and accessories
Full figured clothing for women sizes 14 and up.
Corsetry, gothic, club, evening and darkwear for men and women. Custom bridal wear a specialty. Prices are listed in Australian dollars and include shipping. Prices good.
Victorian clothing, corsets, jewelry, purses and parasols. Lovely selection of victorian clothing at reasonable prices.
Mythic clothing in velvets and silks for women and men.
UK site. Original clothing of velvet,pvc,leather,rubber and lace for mean and women.
UK company that sells fetish-wear in rubber, lycra and net. Also has some interesting corsets like the Warrior Corset which is leather with metal plates.
Plus size gothic glamour. UK site.
Goth and Cyber wear. Australian site.
HUGE german site with tons of goth garb for men and women. There are styles here I've not seen elsewhere. Page after page after page of lovely fashions. They also have shoes, boots and accessories.
Very expensive hand made recyled rubber design fashion.