Gothic Lolitas:
Goth Girls just wanna have Fun!
The Gothic eZine - Fashion
---
Gothic Lolitas: Goth girls just want to have fun.
One reporter's look at the new gothic-fashion look that has embraced Japan and is now coming to Toronto and North America.
By David Graham.
[Right] Nikole Wiseman of Waterloo's "Delirium" store modelling an outfit.
Goth is dead. Long live Goth.
Every time we're convinced the Goth movement has drawn its last breath, it manages to gasp and sputter back to life.
It usually returns with some of the original symbolism intact, corsets and crucifixes, for example, or dark eye makeup and white faces, but it always comes back in an altered state.
In its most recent reincarnation, legions of young Japanese women are dressing up as demure, Victorian children between the ages of 5 and 12. They resemble dolls complete with layers of lace underskirts, small bonnets tied under the chin and a cuddly teddy bear as an accessory, a final touch to reinforce the cute factor.
As sweet as it sounds, it is perhaps the most provocative Gothic imagery ever. It's enough to make Anne Rice and her un-dead band of bloodthirsty vampires seem banal by comparison. Move over Lestat. Alice in Wonderland is the new Goth ideal.
Ever since Goth surfaced as a splinter category of Punk in 1979, trend watchers have been predicting its death. But if the measure of a trend's staying power lies in its ability to adapt to the times, then Goth might just be the trend-that-won't-go-away.
Gothic Lolitas represent a kind of kinder Goth look that appropriates an antiquated imagery of childhood. And whether it is intentional or not, they may also be muddying the costume with ideas of death and sex.
This isn't the first time Goth has altered its imagery to stay alive.
Back in the early '80s, Goth was characterized by painted white faces, dark eyes, fishnets worn on arms, chipped black fingernails and a predilection for black Victorian or Edwardian clothing. The fashion trend was born from bands like UK Decay, the Banshees and Bauhaus.
Since then, there have been hundreds of spin-off Goth sub-categories. Though some traditional Goths still exist as vampire wannabes who celebrate the un-dead and all things dark, new varieties have proliferated. There are sexually ambiguous rockers such as Marilyn Manson, as well as sci-fi, fetish and glam Goths.
In Montreal, Ritual Designs, created by Sandra Chirico and Karen Simpson, specializes in cyber and fetish Goth, recognizable by its bright synthetic wigs, strict corsetry and loads of shiny, colourful PVC.
Simpson suggests that historically much of the Goth movement has been about "a dark vision of the past." Ritual Designs, however, is more sci-fi, she says. "It's straight out of a cartoon and not so dark."In Tokyo, the image of Goth has shifted to the Gothic Lolita in pinafore, platform Mary Janes and white stockings.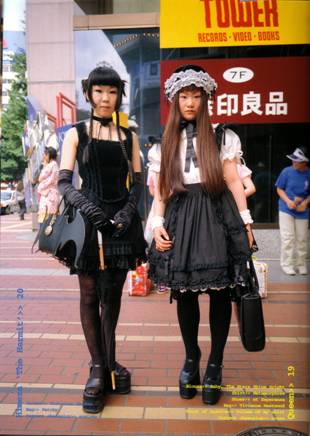 "It's the first new thing to happen to Goth since Marilyn Manson," says Janet Thompson, a former Goth girl who, at 28, still holds a fascination for what she says is "essentially an aesthetic movement.
"Goth prides itself on its ability to shock. Because it is an aesthetic, it can change easily. Because it is connected closely to the music it can evolve and splinter like the music," she explains.
Tokyo's hottest Goth music is known as visual shock and one of the most popular bands in the movement, Malice Mizer, is fronted by a male Lolita who has his own collection of clothing and his own Lolita stores.
It's believed the Gothic Lolita phenomenon is connected to the Japanese "cutie look" that was popularized by the doe-eyed Japanamation and characters, particularly the 14-year-old Lolita-esque anime character Sailor Moon.
The colourful cartoon looks were translated into street fashions by the creative youth culture in Tokyo and immortalized by photographer Shoichi Aoki in his zine Fruits, which ultimately provided the images for his book of the same name.
He captured his subjects alone or in pairs on the street in Tokyo's Harajuku district, a promenade which has become famous as a weekend supermarket of outrageous fashion. The various costumes in the book include such unlikely hybrids as cowboy nuns, Westwood (these kids are obsessed with British designer Vivienne Westwood) samurais, ballerina Rambos and baby doll space cadets. is another off-beat combination in this weird perversion of American niche culture.
A book reviewer for the hip online magazine salon.com commented, "The poses are sly: some are so demure that they must be a ruse, a mockery of the archaic baby-doll, cutie-femme role; others are ironically dopey or snooty, perhaps commenting on the artifice of fashion itself."
Many of the kids travel in pairs, a trend known as twinning, in which the friends dress identically.
Sometimes the looks are pulled together from vintage finds. Some girls buy their Lolita outfits in stores or on Web sites. Still others make their own Lolita costumes from patterns inserted in the Tokyo based magazine/catalogue called the Gothic And Lolita Bible.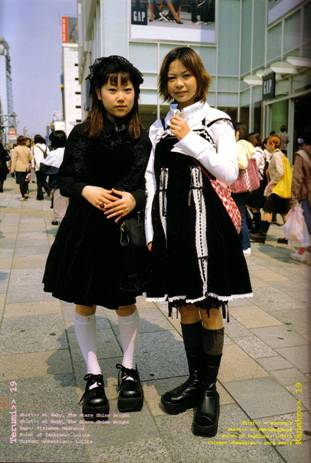 Says Thompson: "Let's face it, a sexed up version of a 5-year-old girl is shocking. Goth is meant to be visually off-putting."
There is a Goth culture in Toronto. But it has yet to embrace the Lolita look.
They gather at nightclubs The Vatican, Savage Garden, Velvet Underground and Reverb. They shop at Sirens, Heretic and House of Ill Repute.
There is one store, however, in Waterloo, Ont., that sees it as the next big thing. Delirium Clothing and Accessories may be the only store in Canada purveying elements of the beautiful and disturbing Gothic Lolita.
While this is very much a Tokyo-based phenomenon, sisters Annissa and Lydia Bellenie, who own the store, are working to bring the style here.
"I've always been influenced by Victorian style and Gothic culture, specifically the corsetry and ruffles and lace," says Annissa. Delirium has had to incorporate other styles into its stock because the sisters acknowledge an exclusively Goth store would have trouble surviving in Waterloo.
A few years ago Annissa began receiving magazines from friends who were on teaching assignments in Tokyo. They were the magazines that ultimately provided the visuals of outrageous street fashions for Fruits.
"A lot of these kids go to private schools and most of them wear uniforms. So when Saturday comes around they go crazy," says Annissa.
She believes the original imagery is inspired by a mix of the main character in Alice in Wonderland, the books of Edward Gorey and the children in The Secret Garden. Think of the Addams Family as Goth characters: Lolitas are more Wednesday than Morticia.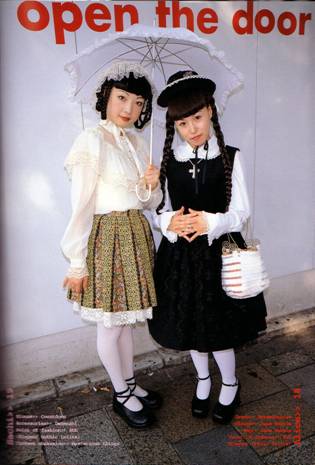 "I'd rather have a child of mine dress like this than like Britney Spears. There is something strange about a very young girl in low rise pants and a tight top that reveals everything," says Annissa.
Like Thompson, Annissa is convinced Gothic Lolitas are only copying an esthetic. Though she admits that through North American eyes, there is something deeply disturbing about a young woman dressed like a child, it's her contention that the clothes carry no message. They are just playing dress-up. They are not anarchists.
The Gothic Lolita is another example of how Japan's popular culture has appropriated imagery without the content. Witness the past interest in Elvis and `50s American culture, for example. It was a superficial and accurate take on a cultural phenomenon, and the motivation was completely devoid of irony. Likewise, the Victorian costumes are huge signifiers in Western culture. We interpret the wearing of such clothing as infantalizing women, but the criticism is lost on the Tokyo Gothic Lolitas much the same as we would not understand the subtle meanings associated with various styles of kimonos.
In Japan, though, fashion trends are about visual stimulation. After all, Tokyo is a massive city dominated by a culture that demands conformity.
"The nail that sticks up gets hammered down," was a common admonition toward children who dared to express their individual personality.
So it should come as no surprise that Goth girls are going farther than ever in their plea for attention.