Zombie Movies from Hell
The Gothic eZine - Entertainment
---
This Website is Best Viewed Using Firefox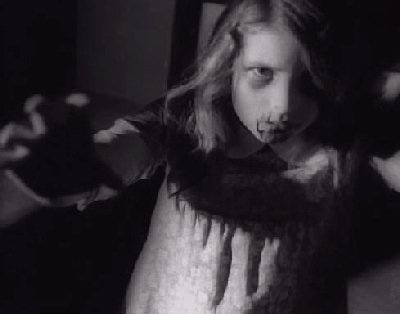 1968 - NIGHT OF THE LIVING DEAD
This is the first of George Romero's brilliant, influential zombie trilogy. Again, the set-up is simple: Zombies walk the earth, and a few survivors take refuge in a house in the woods. Night's zombies weren't anything too elaborate in terms of their design - their look, for the most part, was achieved by spreading oatmeal all over the actors' faces. What's most striking about the zombies isn't their so-so makeup job, but how unrelentingly focused they are.
The zombies move slowly, creeping in the shadows of the trees, achieving their intimidation just by their sheer mindlessness - and they just won't go away. The yard outside the house seems like the size of a closet. Rarely has a horror film created such an unrelenting sense of claustrophobia - the sight of these creatures swaying around outside the window, one step at a time, is more terrifying than any swarming attack en masse. Don't worry - there are plenty of those moments, too.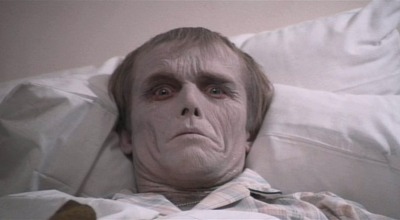 1978 - DAWN OF THE DEAD
This time around, Romero had more than ten times the budget of Night and Tom Savini's class-act makeup team at his disposal. He also shot in color, which meant it was time to get a little more detailed with the look of the zombies - and have a little more fun with them.
Dawn opens with an ultra-violent, extended battle sequence in an apartment complex overrun by what seems like hundreds of the undead. These zombies move faster and seem more ferocious and generally more pissed off than their predecessors of ten years earlier.
These zombies aren't necessarily any smarter, though, and Romero's sense of humor shines through on this. There is an extended sequence in the mall in which the zombies wander through the stores, go up and down the escalator, and generally just stumble around. Perhaps they're remembering their lives before their current state? Whatever the implications, it's a welcome element that balances out the unrelenting grimness of the story. Zombies can be funny, you see.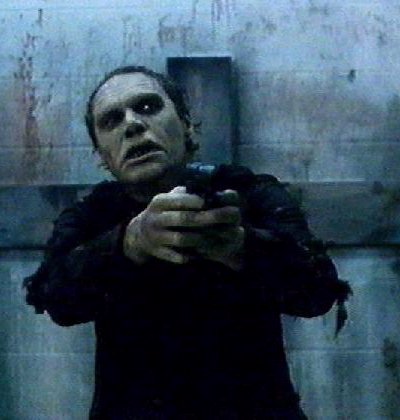 1985 - DAY OF THE DEAD
Romero and Savini really hit their stride with this one in terms of the zombie design. Savini continued to experiment with colors, this time going for a more blue and grey palette rather than the yellows and oranges of Dawn. The humor continued as well, with zombies being identified by the uniforms they wore when they were alive, resulting in appearances of ballerina zombies, biker zombies, chef zombies, and even a clown zombie.
Romero also took his creatures one step further up the evolutionary chain. The main plot of Day deals with a doctor's attempt to condition and ultimately "train" the undead to be more civil - and controllable. Indeed, the doctor's prize student, Bub, is soon able to semi-control his voracious appetite, respond to music, speak (sort of), and even remember his past as a human being. By making them more "human," Romero made them even scarier.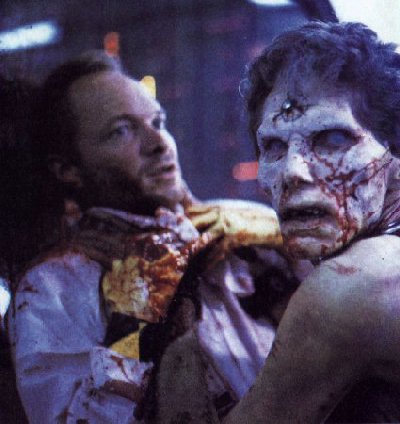 1985 - RETURN OF THE LIVING DEAD
This one is very much a precursor to Sam Raimi's Evil Dead II in that it introduces a very aggressive, goofy sense of humor into the genre. While Romero's films can certainly be seen as satires, they definitely take themselves too seriously to be considered dark comedies. This one, however, is definitely out to make the audience laugh as much as scream. Two of the main characters are named Burt and Ernie, and there is a disclaimer at the beginning of the film that says all the events depicted are true.
This is also the first film to introduce some new elements into the zombie myth. These zombies are resurrected by a toxic gas, they move fast, and bullets don't hurt them. Like the vampire genre, there's a lot of stuff to play around with in terms of the "rules," and Return has fun bending and breaking them.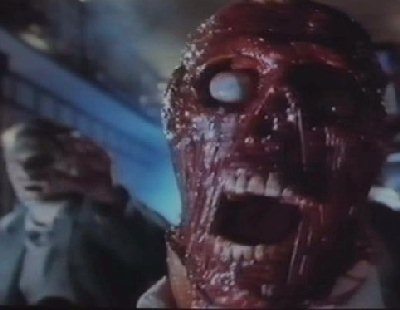 1992 - DEAD ALIVE
Before he became a household name with The Lord of the Rings, Peter Jackson specialized in strange, low-budget horror films, the most notable being this little gem. Besides introducing a whole new league of undead that could run, flip, make their severed body parts move on their own (including their lungs and intestines), and grow to ten times their original size, Jackson also introduced the zombie sex drive.
If you've seen the film, you know what we're talking about. For those of you who haven't seen the film, we'll let your imagination do the work for you until you go to your local video rental outlet (which we recommend doing as soon as possible).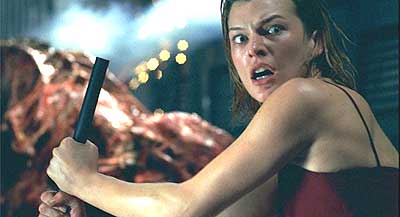 2002 - RESIDENT EVIL
Here, the zombies are a little smarter. In one scene, Eric Mabius infiltrates one of the offices of the Umbrella Corporation and is confronted by his sister, a former employee who is now a zombie in a lab coat. He pleads with his sister to recognize him - and by the way she's standing, and by the way she's staring at him, she just might. She moves a little closer to him - a look of curiosity and perhaps recognition appears on her face. She moves even closer... and then, of course, attacks.
Apparently, the undead of RE are intelligent enough to play tricks like that. They're intelligent enough to know when a human (dinner) is trying to communicate with them, and they know what looks and gestures make the human a little more at ease - so it's easier to move in on the inevitable attack.
So, smart zombies. And zombie dogs, which RULE, especially when Milla Jovovich kicks them in the face.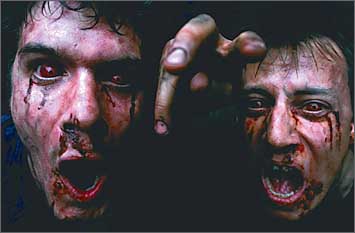 2003 - 28 DAYS LATER
This isn't really a zombie movie, but it sure feels like one. Danny Boyle's "zombies" aren't the walking dead, but rather humans who have been infected with a virus that causes them to spontaneously - and ferociously - attack everything in sight. They don't eat anything, they just kill, but they're just as mindlessly focused as any zombie, ignore their wounds like a zombie would and end up looking like zombies quite quickly.
What's most startling about Boyle's creatures is just how fast they are. They run faster than humans, and they're considerably stronger, which leads to many sudden attacks that come out of nowhere. It's the first time we've seen speed used to such a brutal effect in this genre, and (at least according to the trailers) it looks like the zombies of the Dawn of the Dead remake are taking a page from Boyle's book.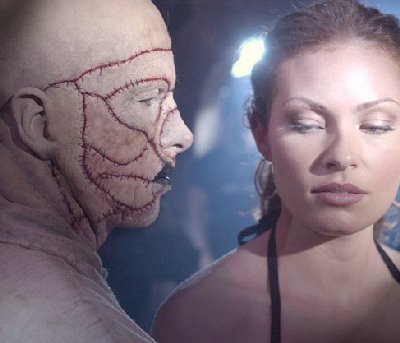 2003 - HOUSE OF THE DEAD
Yes, director Uwe Boll incorporated footage from the video game into the film itself. Yes, when someone dies in the film, the camera spins around them and the screen goes red, just like in the game. Yes, Jurgen Prochnow and Clint Howard play a sea captain and his wacky first mate, respectively.
We mention House only because some genuine love and care went into the zombie work. These zombies move fast, just like in the game, and not one of them is recycled or repeated in terms of their design. Each zombie has his or her own unique look - which, we must admit, is something we haven't seen before. One zombie may just be an actor with some circles under his eyes, another may be so far in its decay that it's nothing but a skeleton with strands of flesh hanging here and there. Love the film or hate it, we have to give props to the makeup crew for doing a lot with so little.