Gothic Hair and Makeup
The Gothic eZine - The Fashion eZine
---
This Website is Best Viewed Using Firefox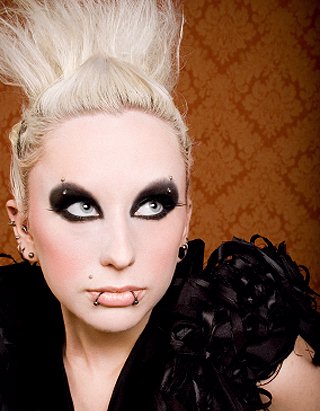 Gothic Hairstyles
With the start of summer, you may want to refresh your gothic style with a few small updates. Below you'll discover how to redesign a white shirt with a few simple tricks, how gothic hairstyles such as hair falls and extensions are worn by a Gothic hair designer.
1) How did you get started making hair falls and extensions?
There are two different types of dreads for gothic hairstyles: falls, the ones you take in and out and extensions, the ones that are braided into your hair. I have always been a little obsessed with dread falls and gothic hair extensions. Two years ago, I saw hair extensions and falls on the internet and I wanted some of my own. So I saved up money and I bought a pair online. When I received them, I studied how they were put together. I also looked online for hints and tips on how to make dread falls and hair extensions. I came across a site that had a lot of information, which helped me with the learning process. I also printed out all the pages for reference and then practiced making hair falls and extensions for a variety of gothic hairstyles.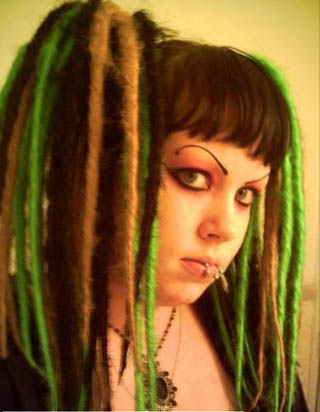 2) How do you maintain your new head of dreads?
This all depends on whether you have dread falls or dread extensions. Regardless of what your have, you must always be careful not to snag your dreads on something and tear them. Because they are pretty delicate and can be destroyed easily, avoid getting your dread falls wet.
If you're caught in the rain with dread falls, hang them up to dry in your laundry room or a warm place in your house. If you don't, they can grow moldy and then you would have to get rid of them. Dread falls absorb odours easily, so if you wear them to a place that's smoky, hang them up for a few hours after you take them out. If the do get smelly, your can spray them with Fabreeze and hang them up.
Dread extensions tend not to last as long as dread falls because they are being worn 24/7. You can choose to wash your hair, or not to wash your hair when you have dread extensions. If you do choose to wash them, remembers that wet dreads are extremely heavy. Make sure you rinse out all of the soap as any residue will cause irritation and itching to the scalp. If you decide not to wash your hair, you can mix a solution of water and tea tree oil once or twice weekly and massage the mixture into your hair and scalp.
When you decide to remove your dread extensions, wash them in the washing machine on silks, wools or hand washing program or hand wash them in a tub of warm water and a bit of soap. Again, make sure your rinse out all the soap. Afterwards you can attach them to lace and use them for falls.
3) How do you attach the hair extensions to your real hair?
You would attach hair extension dreads to your gothic hairstyles the same way you would attach any other type of extension. Braiding is the most common way to do it. If you want a dread kit as permanent hair extensions, then you will need to know how to braid the fake hair into your own hair (see diagram below).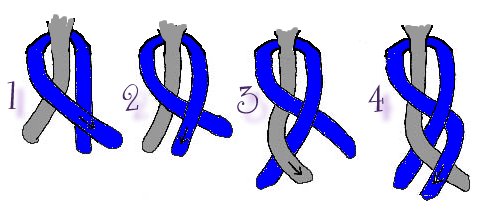 How to Braid Fake hair into Real Hair
4) Can I add hair falls for the weekend only?
Dread falls are made specifically for quick changes in your hair. The dreads are attached to lace or a hair elastic. Put your hair up in two tight little buns for pigtails or in a tight bun in the back for a ponytail. You then tie them in. If you're a first timer, your hair falls might feel loose. If this happens, I suggest cutting up an old pair of panty hose or stocking and tying them into your hair for extra security, then you can wear a headband or a pair of goggles to hide where the dreads are attached. To find out more about handmade hair falls and extensions, visit http://dreadobsession.tripod.com/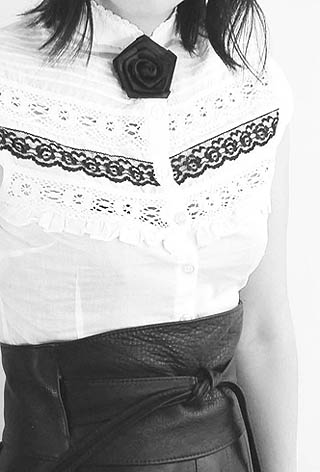 Redesigning a Plain White Shirt into a Gothic Shirt
You can revamp regular clothing in interesting ways. One of the easiest and quickest ways to Goth up a basic black button-down shirt or jacket is to replace plain buttons with antique-looking silver or pewter colored buttons with details on them. By replacing the previous plain buttons with gothic style ones, you completely change the look, with minimal time for cheap gothic clothes.
Another simple method is adding black lace along the cuffs of your shirt or jacket sleeves or along skirt or dress hems. All you need to do is hand-stitch along the edge of the lace to the edge of the garment. In the example below, I found a brand new white shirt with eyelet for $3 at the thrift store. I went to the notions store and purchased black lace and a black ribbon rose for under $1. It took 15 minutes for me to hand-stitch the black lace and safety pin the black rose on the shirt for this inexpensive gothic redesigned example.
---
Gothic Makeup
Summer is in full bloom and you may want to refresh your gothic style with some lighter pieces. Below you'll discover how to turn any eye shadow into long-lasting liquid eyeliner, get affordable gothic clothing advice from our feature gothic designer of Gloomth and a few tips and tricks to cutting gothic hairstyles and putting on lighter gothic makeup with the newest mineral makeup to help you look and feel your personal best.
Gothic Black Eye Liner
In addition to a pale complexion, gothic makeup is known for its theatrical eye makeup designs. Some artistry is required to achieve the mysterious effect with a combination of eyeliner, blending of eye shadows and mascara or false eye lashes. One of the most striking features of Goth is that both men and women wear the ubiquitous black eye liner. This is one aspect of this makeup application that not only takes practice, but an extremely steady hand.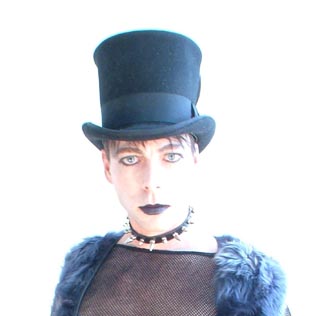 Types of Eyeliners
Pencil eyeliners tend to be quite popular because they are easier to use. The tissue of the eye area is extremely delicate, therefore when choosing an eyeliner pencil, be sure to select one that is soft enough to glide easily. Liquid eyeliners require more practice, but create precise lines once applied with enough control. Felt tip liners are quite similar to liquid eyeliners in consistency and offers a bit more control. Cake eyeliners, traditionally used by professionals are now becoming very popular.
A new trend is to use eye shadows as eyeliners. The advantage of this is that you have so many more colors with which to line. For a long-lasting solution, use a versatile product called Metamorphix by Lise Watier that transforms any powdered eye shadow into liquid eyeliner. Squeeze a drop into the eye shadow palette, use an eyeliner brush to mix the clear liquid drop into the shadow and apply it as you would for regular liquid eyeliner.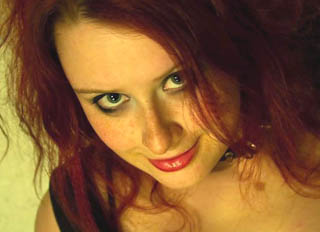 1. What is your art or design background?
I have a B.A. in Illustration from the Ontario College of Art & Design. I worked as an illustrator for several years during school and after graduation, wrote and worked on my own stories as well. I've been designing and making my own clothing since early high school, mostly because I lived in extremely remote areas and had none of the shopping options nowadays. All my sewing training has been hands-on, at home, with my mother's old 70s sewing guides in front of me. - Taeden Hall