Emily the Strange Fashion
The Gothic eZine - Gothic Fashion
---
This Website is Best Viewed Using Firefox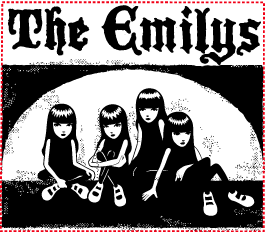 Goth girl clothes
Whether you're a true Goth grrrl or just love kitties, Emily the Strange has something to spark up your summer. The now-massive clothing and accessories line by Cosmic Debris sprouted just 13 years ago from a simple sticker featuring a dark-haired little girl and appeals to children, tweens, teens, women and even grandmothers. We've picked out a few of our favorite items, but you can find the entire collection online at www.emilystrange.com.

Hot Days
Emily's swimsuits boast groovy details, such as small skull centerpieces, side ties and belts. The Game Over bikini ($51, S-L) features a portrait of Emily repeated in black and white and bold red ties. The Skull Check bikini ($54, S-L) is intriguing, as its pattern fools the eye: faraway, it appears to be black dots over white, while close up, you can see rows of tiny skulls and crossbones.
From beach to the farmers' market, the line's large totes can hold everything and more. The bags are nylon with a screenprinted design and sturdy canvas straps. Pick from the red I Wanna Be Your Cat featuring Emily and three of her kitties or Mermaid Strange in blue with mermaid Emily and a kitty-octopus for $22 each.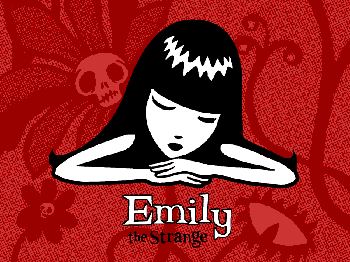 For the beach
Strange beach towel ($22), which offers a larger view of the corresponding tote's scene in swirls of blues. And for almost anywhere, add to your look with matching blue Mermaid Strange flip flops or coordinating red Lost Poppies flip flops ($15, S-L). The Lost Poppies have a field of flowers across the sole and a dreamy Emily, while the Mermaid Strange has mermaids and weird sea creatures.
Cool Nights
We all experience our share of chill when the sun goes down, but you can keep warm and be cool with the Kitty hoody ($26, S-XL). The black anti-pill jacket has a zip front with two pockets and purr-fectly fun cat ears on the hood with pink fur detailing. It comes with detachable matching Paw mittens in pink and black.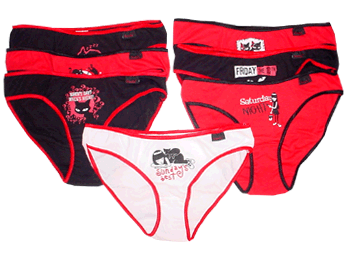 Don't forget your tootsies. Whether you're lounging or going out, Creepy Bones black kneehighs ($12, one size) are comfortable and warm. Their X-ray-inspired design will tickle your funny bone.
Strange Things
You'll be dying for someone to ask you the time just so you can pull out the Poison Emily pocketwatch ($28.50) In black and silver, its face is emblazoned with a cameo as only Emily can do. It doesn't open (like a poison ring), but it does have a sturdy chain and clasp so you can keep it safe.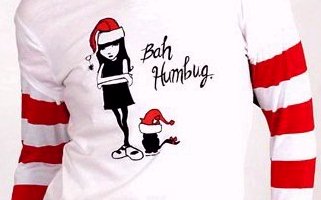 Spice up your footwear with a pair of shoelaces ala Emily for only $3 each. There are several designs from which to pick with frisky cats, winged skulls and more. All of the laces are cute and some of them are still tough enough to give to your favorite boyfriend ... if he's cool.
Lastly, you need somewhere to jot down all your adventures, so try an Emily the Strange journal ($13 each). There are several cover choices - all in either black or red - and themes, such as I Wanna Be Your Cat (Emily and her trio) or Some Girls (an Emily tea party). To inspire your inkings, Emily and her kitties cavort across the inner pages as well.